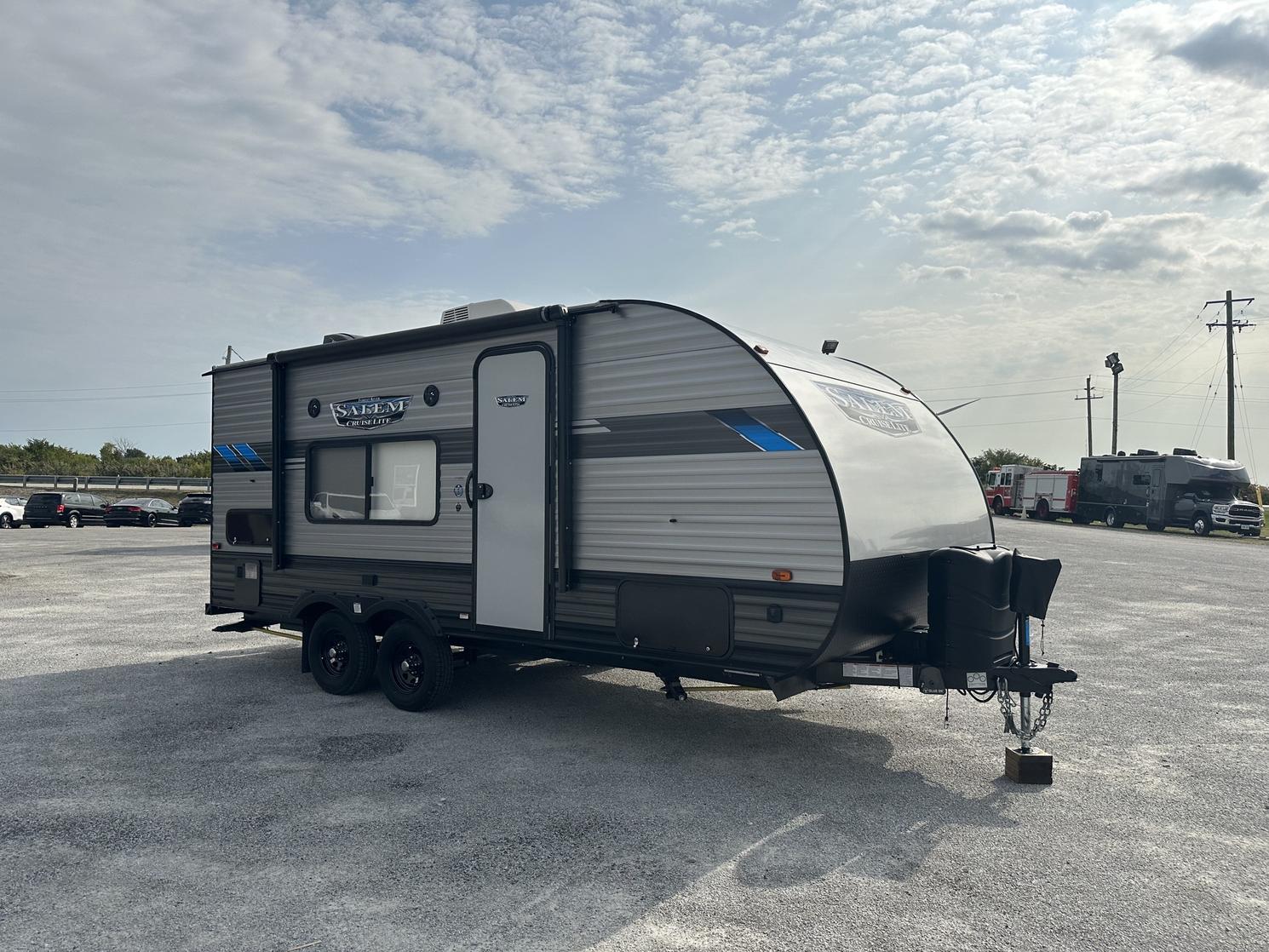 Condition: Used vehicle
Manufacturer: Salem
Model: 171RB
Version: XL
Year: 2021
Stock #: TRC3439
Type: Travel Trailer
VIN: 4X4T5M727M7423199
Exterior colour: Gray
Air Conditioning
AM/FM Stereo
Auxiliary 12v Outlet
Eat In Table
Electrical Hookup
Front Storage Trunk
Fully Loaded
Interior Lighting
Keyless Entry
Oven
Power Locks
Propane Tank
Rear Storage
Refridgerator
Shower
Spare Trailer Tire
Tail Lights
Tow Hitch Receiver
Tow Package
Trailer Hitch
TV
Utility Storage
Notes:
Introducing the Ultimate Adventure Companion: The 2021 Salem 171RB XL Travel Trailer!

Are you ready to embark on unforgettable journeys, create lasting memories, and experience the freedom of the open road? Look no further than the fully loaded 2021 Salem 171RB XL Travel Trailer. This exceptional travel trailer is not just a mode of transportation; it's a gateway to a world of adventure, comfort, and convenience.

Complete Peace of Mind with Winter Storage and Tire Protection: No need to worry about the changing seasons or the elements. This Salem 171RB XL comes complete with a high-quality winter storage cover and tire covers, ensuring your investment remains in pristine condition year-round.

Seamless Camping Experience: Say goodbye to the hassles of searching for the right hookups. This travel trailer is thoughtfully equipped with all sewer and water hookups, making setup a breeze. Just hook up and enjoy the great outdoors without a care in the world.

Enhanced Towing Performance: The included Blue Ox trailer hitch with sway bars provides a safe and stable towing experience. Hit the road with confidence, knowing your trailer is securely attached.

Luxurious Upgrades: Inside the Salem 171RB XL, you'll discover a host of premium features designed to enhance your camping experience. The upgrade to a porcelain toilet adds a touch of elegance and comfort to your personal space, ensuring that every aspect of your journey is enjoyable.

Ready for Anything: We believe in being prepared for every situation. That's why this package includes a comprehensive tool kit and cleaning supplies. Whether you're performing routine maintenance or keeping your travel trailer spotless, you'll have the right tools at your fingertips.

All-Inclusive Camping: With this fully loaded travel trailer, you'll have absolutely everything you need to embark on your camping adventures. Just pack your favorite food and beverages, and you're ready to hit the road. There's no need to worry about forgetting essential items because we've thought of everything for you.

The 2021 Salem 171RB XL Travel Trailer is not just a means of travel; it's your gateway to exploration, relaxation, and the great outdoors. It's a testament to the craftsmanship and dedication that Salem puts into every detail. Don't miss out on the opportunity to make memories that will last a lifetime.

Take the first step toward your next adventure, and contact our team today! Get behind the wheel of the 2021 Salem 171RB XL Travel Trailer and experience the ultimate in comfort, convenience, and freedom. It's time to embrace the journey, and this travel trailer is your ticket to a world of excitement.
Warranty:
Custom warranty options are available. Please contact a sales representative.
From Classics to Supers, we've opened up our family friendly show for virtually any vehicle make, model and year. Whether you attend with a show piece, or as a spectator, there will be something for any 'gear head' or motor sport enthusiast around. Don't miss out, and help us make this year's show the best one yet!